"Thank you Artisan Wedding & Event Co. for making our wedding so beautiful. You made the whole process stress free and easy."
"Fantastic friendly service. Rob was amazing to deal with, delivered all the tables and chairs for us and even helped us set them up on arrival. Really took the stress out of it and will definitely be using his services again. Thanks Artisan"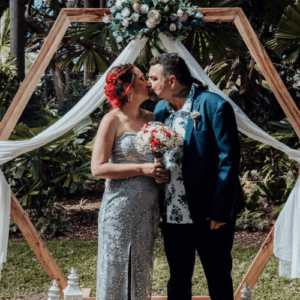 "Rob was amazing from start to finish so professional and organised. He was always happy to take my phone calls in the lead up with any concerns I had. Would definitely recommend to everyone."
"Thank you Rob and the team for helping create our ceremony look exactly what we dreamed and more. The hexagon arbour was just beautiful. The team delivered, set up and packed down everything, they even went above and beyond by helping pack away other furniture at our ceremony space. Rob's communication was frequent and prompt. Highly highly recommend to anyone looking for a great value professional service"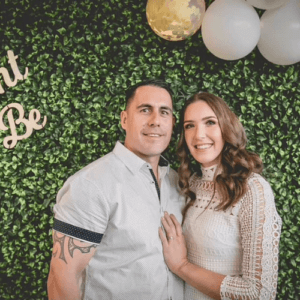 "Could not recommend Artisan Wedding & Event Co enough! The communication, professionalism, promptness and quality of their products were beyond our expectations.
We hired the Jasmine Leaf Green Wall backdrop for our engagement party and it was an absolute hit! Many places to zip tie little knick knacks to make it the place for photos. You can tell they put heaps of effort into their products as there are no holes showing through like many other green wall backdrops we researched for our event.
Thank you to Robert and his team! We will definitely be using Artisan Wedding & Event Co for future events."
"Rob and his team provide a fabulous service. Rob communicates frequently and gives all the information required. We hired the hexagon arbour for our wedding, which was very hard to find at the time, especially within the price quoted. Artisan Wedding & Event delivered and picked up with no issue. I highly recommend Rob and his team."
"My partner and I had our beach wedding last Saturday at Noosa Northshore. Robbie and his Team supplied our Arbour with dried floral decorations.
I cannot speak more highly of my experience with Robbie. The Arbour was more beautiful than my expectations and Robbie was very professional and easy to deal with. I would highly recommend Artisan Wedding & Event Co!"
"I recently hired a green wall for my 21st Birthday Party and I couldn't of been more happy with the presentation & outcome. Robbie from Artsian Wedding & Co was very professional, made everything very easy and affordable. Will definitely be recommending his business to anyone having an event & use his services again in the future."
"Thank you to Robbie from Artisan wedding & Event co for making our little man's first birthday less stressful. we hired a green wall & it was perfect we were extremely happy with presentation, well put together and made the best backdrop for photos! We had so many compliments.
Robbie went to extra efforts of dropping it off day before and picking up the day after. Will be hiring again! thank you so much!!"
"Artisan Wedding & Event Co supplied the arch way my new Husband and I used for our wedding just yesterday!! We had an outdoor country wedding and this arch way was the perfect feature. I would definitely recommend these guys for their easy and reliable service and beautiful quality product!"
"Rob was very easy to deal with and the hire process was smooth and easy. Arbour arrived and was set up on time and looked just as good as the pictures with the dried floral arrangements.
Was very quick to refund the security deposit as well. Would definitely recommend to anyone needing an arbour for their wedding!"
"My partner & I recently had our Engagement Party turned surprise Wedding. The entire night could not have been more perfect and we have all the vendors who assisted us to thank. Rob at Artisan Wedding & Event Co. being a very important part of that planning. Rob went above & beyond to not only source pieces for the look we desired but also to ensure the set up was hidden & the collection after the ceremony was discrete. I didn't even notice Rob come to collect the Arbour & signing table. Thank you so very much for being so easy to work with, for helping us achieve our dreams & providing us with such beautiful pieces. I would highly recommend Artisan Wedding & Event Co to all my friends, family & strangers. 5 stars."
"The arbour we picked for our ceremony was absolutely stunning. The dried florals looked beautiful on it. Rob was so easy to communicate with and the whole process of booking, set up & collection was a breeze. Highly recommend this company and their products"
"Rob was so great, he was super friendly and down to earth. He made the process so simple and no fuss. I couldn't recommend Artisan Wedding & Event Co enough!"
"These guys are true professionals! I couldn't find a good quality hexagonal arbour anywhere in Brisbane but Artisan Wedding & Event Co had one and it was the most beautiful arbour I'd ever seen! Exactly what I envisioned for my wedding
The delivery was seemless and the price so reasonable, even though they were the only ones in Brisbane that rented out that kind of arbour! Don't hesitate to use them for your special day, you definitely won't be disappointed!"